2700 End Points!
A large company that sells tobacco products wanted an integrated solution for displaying advertising material at 1300 kiosks in Greece, with two 8 inches tablets at each place. After testing and evaluating the platform, EMC was chosen as the best-fit solution for the project.
Our team, together with Mental Informatics engineers and the customer's project managers organized and fulfilled the project in two phases, pilot and production.
Abided to our B2B aspect, we helped end customer's IT personnel to integrate parts of EMC with their ERP system in order to achieve a number of automations and better reporting.
During the project, we provided successfully first, second and third level support to each one of the end points, with our internal Call Center telephone support, on-site visits when needed and bring-in, repair and return of the devices.
Most of the end points are still out there doing the job!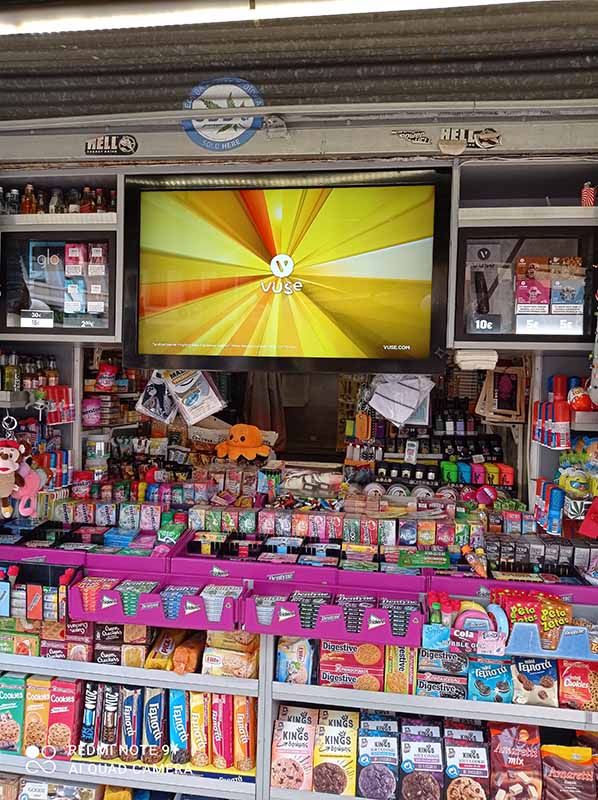 Advertising on the sea!
A Greek shipping company with a significant number of ships was looking for a digital signage solution that would be placed on each different ship, in different locations for the display of the company's marketing material.
We had the opportunity to work with customer's marketing people and consult them on the material that would best suit the solution we designed. A combination of tablets at tellers' desks and at the reception, as well as 32-inch TVs were installed at the lounges and master areas.
People on board were so happy when they realized that the whole project would be managed from the company's premises, in the marketing department, absolving them from a daily task which was a real pain until then.
We couldn't be more satisfied.
Digitizing simple glass!
When a pizza delivery chain asked for quotation for installing EMC in 100 location, we couldn't be happier. The platform could cover their requirements and the decided to kick off with 20 shops as a pilot. The pilot is still running and there will be an evaluation and further spreading by the end of this 2021.
What makes this project really remarkable, is that we had the opportunity to transform the glass at three of their shops to large scale (~100 inches diameter) digital signage window! By using a special film and the appropriate projector, when the shops are closed, their windows play the company's marketing material for the whole night. That, by installing zero equipment outside the shops.
Airtime aspect.
After participating in a fair for retails markets, a new aspect of EMC came up after a lot of potential customers inquiries. What they were asking for was a digital signage platform, with stable performance and easy interface and the most important, with air time analysis and report.  That way they could use EMC for displaying advertising material of other companies and be paid for that!
Of course, EMC had already this functionality (ShowTime report) and thus, we had several new customers entering out clientele.